Funny enough my revisiting of this site isn't linked to the fact that the new year is right around the corner and I'm getting a head start on any resolutions.
I've finished the first season of Wentworth Prison and I think, looking at my other posts, binge-watching a tv show initiates a need to release thoughts.  I tried watching The L Word but I'm just not into it so I put on a playlist of Alt-J songs and here we are.
I think I need to vent.  There is no real point in this blog besides the allowance of my thoughts to flow so I can take a look at what's going on inside my head, and to be able to see in the future what was going on in my head December 29, 2013.  Well it's almost 1:00am so I guess technically my thoughts are from December 28th if we're gonna be particular.  Which I know you like.
That's actually funny because the one thing that bothered you about Orange Is The New Black (the memoir) is the overly descriptive writing.  Don't get my wrong I loved what I "read" (4hrs of an 11hr audiobook) but the way Kerman writes….she says everything in threes.  I wish I could pull some quotes but it's hard to do when it's an audiobook.  Plus the free trial expired.  I'm debating on whether to bring Someday, Someday, Maybe: A Novel by Lauren Graham or Orange Is The New Black on the trip in a few weeks.
Orange Is The New Black, a lighthearted sort of Wentworth Prison has the internet is blowing up because they were released at the same time and both follow a woman visiting prison for the first time and her struggles.  Although everyone's saying Wentworth makes OITNB seem unrealistic and uneasily simplistic, I have to disagree.  There are similarities, I'm not going to deny that.  For instance:
Piper's fiancé is named Larry, Bea's husband is named Harry

The supporting character is a brunette lesbian who works in the laundry room (and in the first episode we see they're both in control of heroin drug mules),
A screwdriver is used for sex-related use,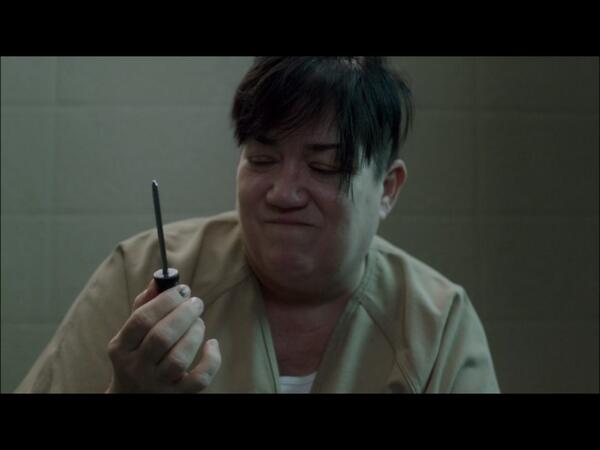 Red is called Red, Bea is called Red,


Jaques is a sociopathic version of Red,


Bea hears something as she's in what's known as "The SHU" in OITNB


I could go on…
But the reason Wentworth Prison is not Teal Is The New Black is because of it's severity.  Kerman writes in her book how most of the women she is with aren't imprisoned for violent crimes, Bea however, is incarcerated for three charges including attempted murder.  Most of the people she's surrounded with are murderers and that'll sure as hell change how her world works.  People who question the realness of OITNB are ridiculous because it's based off a memoir.  In OITNB characters are stuck in the cycle of the system.  In Wentworth prisoners are there for decade-long sentences.   I think that both stories are very accurate in depicting the story they're meant to.
Okay, I just really needed to address that.
What else has been on my mind…?
Tea.  Chocolate Chai and Mule Apple.
My friend came out to me.  I already knew but hearing him say it made it so real.  He didn't know beforehand.  It's funny how that happens, often others know someone is gay before they do.  I came out to him too and as we began shedding our closets I got to talk like I've never talked before.  I've talked about sexuality with two other people but it was never like this.  There was a constant need for explanation and a lack of understanding [first-person wise] with the first two.  If you tell me all about how you skydived I can understand but when we talk about it later I'll only end up mostly repeating what you've told me (and want to hear), and not with the same volume of exasperation.  It's a discussion, I'm not re-living the adrenaline.
He said he was gay but I could only say I'm not straight.

It's funny because in my head I say I'm gay, but once you say it aloud it's so final.  But if I'm not gay, I'm screwed.  All this time I've been preparing for the lesbian life and if it turns out I'm straight I'm gonna be even more lost than I was to begin.  I've been holding out, figuring a love interest would make me know.  Understand.  But recently my faith in this strategy has been shaky.  However my friend came out because a guy he likes is interested in him and he wants to try dating him.  If it happened for him, it can happen for me.   In my head I think about my future in relationships and I've come to terms I probably won't date 'till I'm in university.  That seems to be the safest place.  I had a weird sexual encounter with an old (guy) flame recently and I kept seeing two emotions flare up.  One was that I wanted to be loved.  Not feel loved, because I couldn't see that happening then, just I wanted to be loved.  But I couldn't return the favour.  The second is more personal so I'll keep it inside but I'm sure you'll remember.  Think about the lack of connection.  Anyways, at uni I'm going to be out.  Whether that's out as gay, bi, straight or questioning, I will be out of this godforsaken closet.

Thoughtsthoughtsthoughs…My circle of friends has been drastically decreasing.  I don't even think I have anyone to go out for New Year's with.  What worries me is I'm not lonely.  Maybe a little bothered but I've been quite content.  Am I really this introverted?  If I ever feel down I think of university and how enjoyable it'll be, in the words of Maria, and then I don't feel so bad.  If uni sucks then I'm gonna have a problem because it's what's I've been waiting for.
Hahah I've managed to spit out over 900 words in half an hour yet I can't think of a single thing for essays.  C'est ma vie.
Hmmmm other thoughts…?
Tumblr.
I've made accounts in the past but just like twitter, it quickly confused me with all the orientation and with the speed it's meant to be used with.  But this time it's different.  I'm more committed.  And I love it!
I take pride in the display of my page and enjoy the dashboard and even more, the ability to search hashtags.  I search people and things all the time and often look through google images but this is so much more satisfying to my curiosity on subjects or just the wanting to look at pretty things.
One thing tumblr has taught me is I'm not alone.  As I search things like Orphan Black, OITNB, Wentworth Prison and The Saturdays I see other people who are just as "fangirly" if you will, for the same things as me.  My friend constantly calls my interests "obsessions" which I don't think they are.  Do I think Clea DuVall is the coolest on earth and so intriguing?  
       Yep.  But I don't compare myself to the girls who cut "Justin Bieber" into their arm or hyperventilate for One Direction.  I don't see the harm in casual fangirling.  Maybe it's weird, maybe I'm defending something that is so obviously abnormal.  But seeing other people with the same, if not more intense feelings, makes me feel less different.
Hmmm I've just deleted a paragraph on someone close.  Talking to her has become a chore but I don't want to say too much here, it'd feel like a betrayal.  I just picture her reading it and oh god that'd be awful for both of us.
Anyways that's it for now.  I'm exhausted and dreams are what I look forward to so I'm going to go take advantage.  I shall leave you with this  absolutely perfect picture.
  Her eyes.